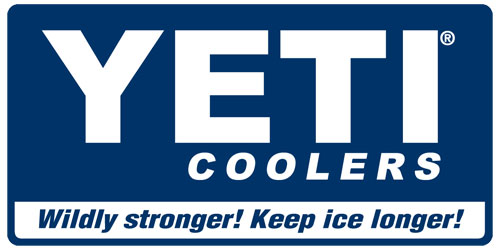 Premium YETI Coolers
At Marett Carpet One Floor & Home, we sell more than just carpet and flooring; we also sell YETI coolers!
YETI Coolers are the toughest and best-performing ice coolers on the market. They are unrivaled in both structural durability and ice retention due to their unique construction. The walls of the YETI Cooler are filled with up to 3 inches polyurethane foam that gives the cooler such amazing insulating power. Unlike most coolers, the lid is also insulated. Depending on the conditions in which you put your YETI Cooler, the ice may stay frozen for up to 2 whole weeks!
These coolers are constructed using one solid piece of rotational molded polyethylene, giving the cooler a strong build that is guaranteed to never split at the seams. This cooler is so strong that its durability has even been tested against grizzly bears! Check out more Yeti Cooler stories!
There are many different types of coolers available, from the typical outdoorsman's Tundra to the more portable Hopper, there is a YETI Cooler out there for everyone. You can fit 14 cans into the smallest model or over 250 in the largest model, the Tundra 350. You can learn more about YETI Coolers on their official website. We also carry YETI water bottles and drink tumblers in various sizes. Come by Marett Carpet One to see our entire selection of YETI products!